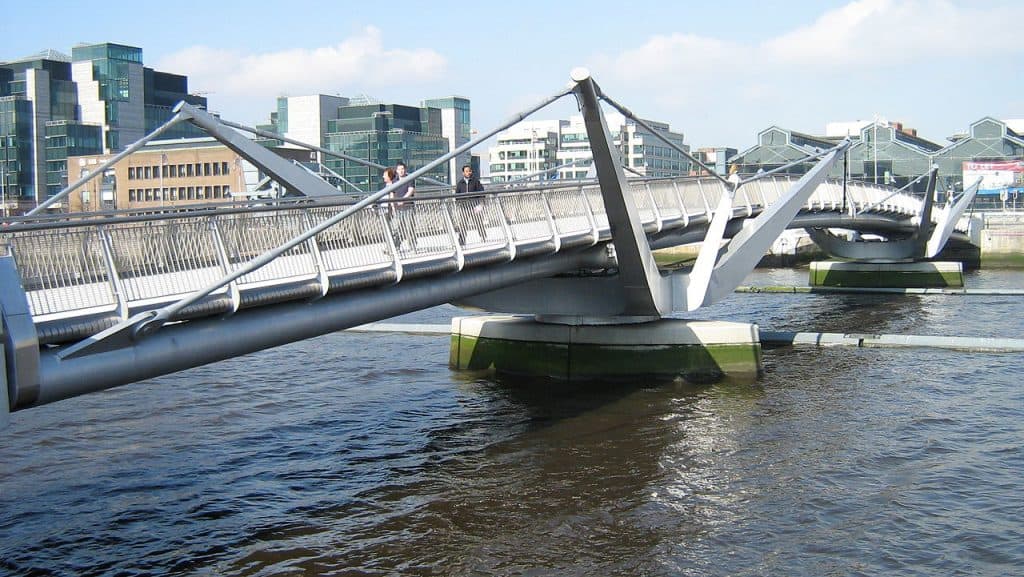 Three Bridges Rally 2022 – Report
CIC 2022, Event Reports / By Simon Parker
From the organisers
In 2021 the committee prepared an ambitious event that attracted nearly forty boats and more than a hundred people. The weather was good, the bridges lifted, but unfortunately Covid restrictions forced us to abandon the carefully planned activities in the Clayton Hotel. A last-minute switch to quayside catering saved the day. (continued below…)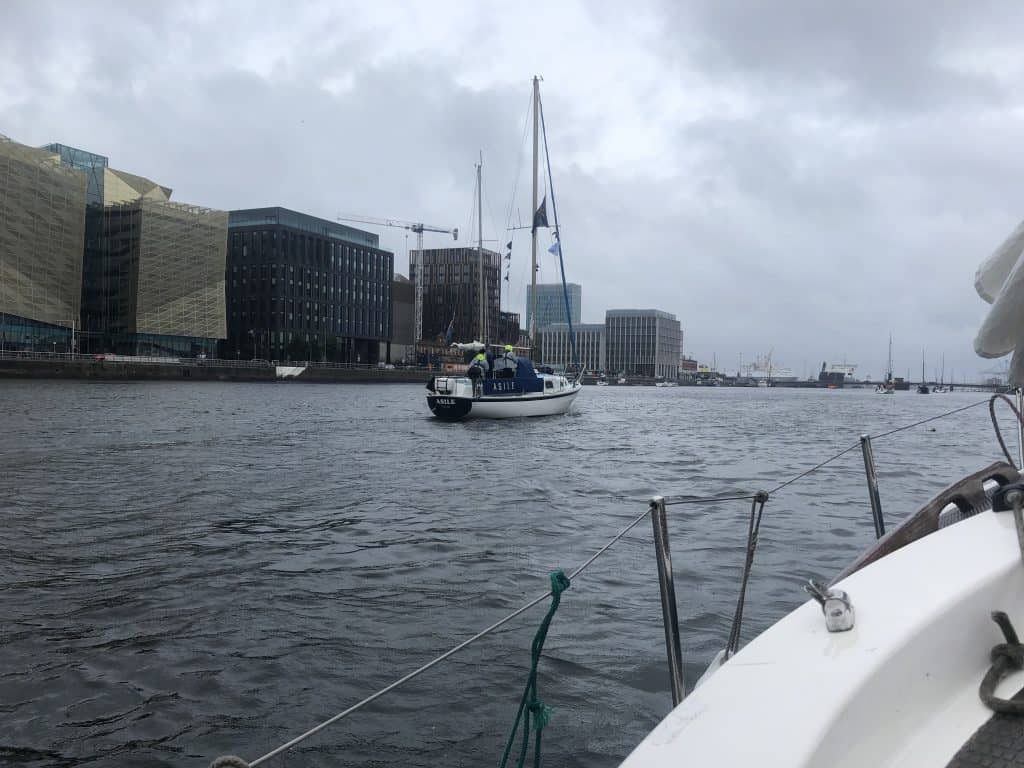 A year later, the hotel agreed to provide the same service and generously agreed the same rate. Dublin Port and Dublin City Council were as helpful as ever and we were set for another big day on Saturday 3 September 2022.
Advance bookings were encouraging, with more than thirty boats in the fleet and tickets for dinner likely to sell out.
In mid-August we learned that the Samuel Beckett bridge couldn't open for us this year. Apparently, an incident earlier in the year caused a technical problem that couldn't be fixed in time. Despite the best efforts of our enthusiastic contacts in the engineering department of Dublin City Council we had to shorten our parade.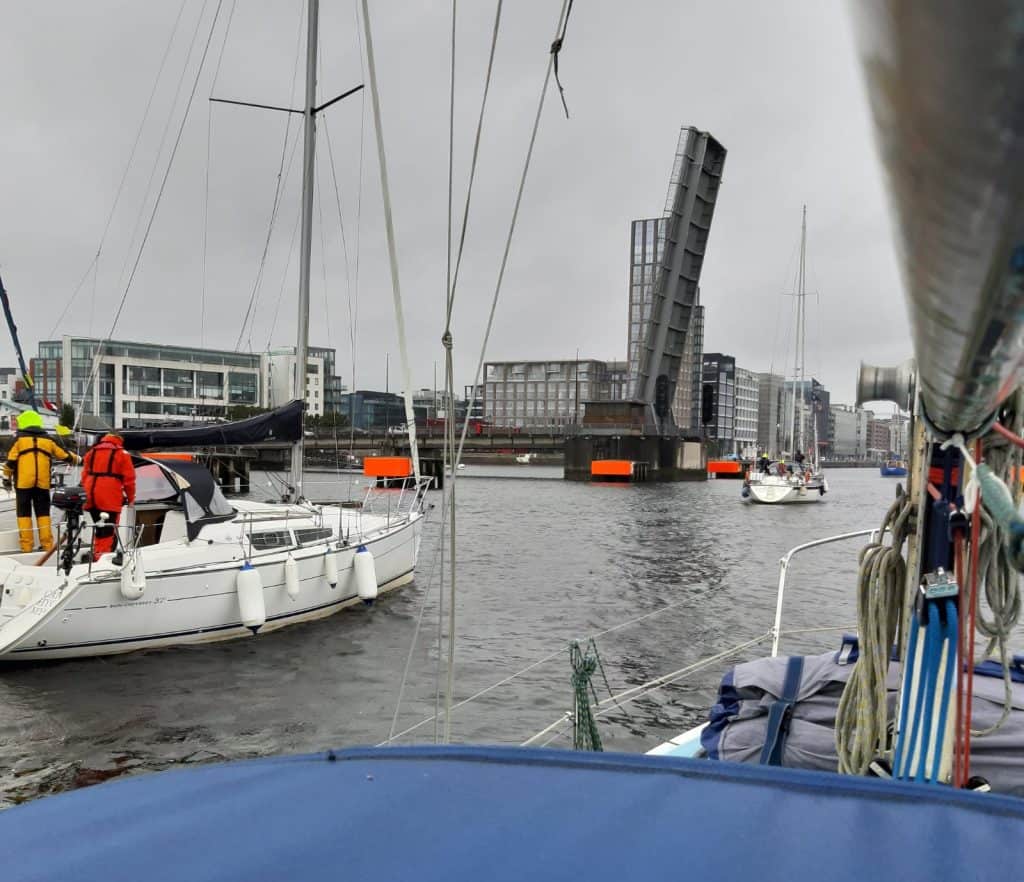 Towards the end of August, the weather became very unsettled and hard to predict, with a series of depressions threatening strong wind and rain. Those facing longer passages to and from the event could be waiting days to get home again. Poolbeg Yacht and Boat Club were generous with their hospitality and encouraged participants to arrive a day or two early and stay on afterwards. Cloud, rain and blustery wind on the day made the parade less attractive to some.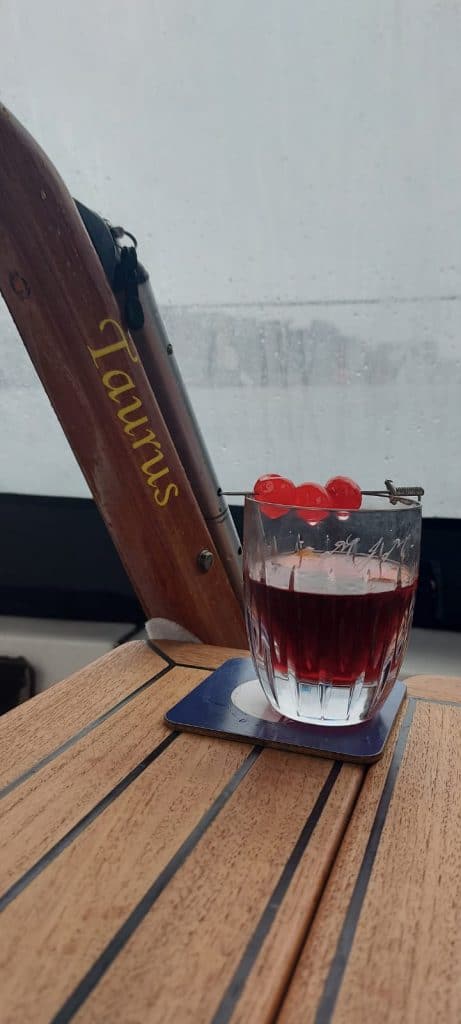 Celtic Mist arrived on Friday night from a week-long trip on the south coast. She was short-handed, but we put out a call for help and the crew of Tereblee changed their plan and joined her for the experience.
In the end fourteen boats made their way through the Tom Clarke Bridge and paraded as far as the Samuel Beckett Bridge a couple of times, flying flags and waving to the few spectators on the quay. Long Time even hoisted sail for a while.
Even with our 'XL' vessels Beluga and Celtic Mist there was enough room for all on the Liffey pontoon without rafting. We berthed port side to in anticipation of the strong Easterly wind and spent a comfortable night.
From about six o'clock sailors made their way to the Clayton Hotel and joined those who had travelled by car and DART. In all there were more than 80 sailors there, representing about 25 boats. They collected meal tickets, shower vouchers and a free drink on arrival, settling in with friends before a fine three-course dinner was served in the Vertigo lounge.
During the meal raffle tickets were on sale in aid of the Royal National Lifeboat Institution. With a selection of valuable prizes from generous donors sales were brisk, and we raised nearly €1000 for the cause. Winners took home hampers, wine and vouchers for hotel stays and gym membership.
An extra prize kindly donated by Mike Medcalf went to the Best Dressed Boat. This year's winner was Choufleur, with an impressive ratio of flags to length.
The Commodore's speech was interrupted by a telephone call from the proud father of his first grandchild, born in Canada a few hours earlier. After showing our appreciation for the Lifeboats and Coast Guard to mark National Services Day and thanking the people and organisations that made the event possible, it was time for music.
We enjoyed simple home-grown entertainment with an 'open mic' session. Irish traditional dance music got us going and we heard folk, pop and rock tunes during the evening. There were contributions from the crews of Rhapsody, Ostara, Timballoo and Asile. Eddie from Malahide kept us going with his guitar. The audience joined in at every opportunity, but there was plenty of conversation as well.
Boats were ready in good time to cast off for the bridge opening at 11:00 the next morning. A last-minute problem was solved when Sea Haven took After Midnight in tow. A handful of boats stayed on at Poolbeg, but the rest of the fleet dispersed to home ports.
The event was made possible by the good will and cooperation of several organisations:
Dublin City Council (Seamus Storan)
Dublin Port (Tristan Murphy)
Clayton Hotel (Aine Fox)
Poolbeg Yacht and Boat Club j(Jimmy Daly)
We are grateful to them, and we also thank the CAI members and guests whose good humoured company rewards our efforts.
Organisers: John Murphy, Vincent Lundy, Simon Parker.
and this slideshow was shown at the evening event:
With thanks to Mike, Ruth, Sue et al for their images