[tribe_events view="list"]
About the Cruising Association of Ireland
Cruising Association of Ireland

~ Update Spring 2020
History, Structure and Constitution

Around 2002, some active cruising sailors felt a need for a broadly-based organisation to encourage and support non-competitive sailing at Howth Yacht Club, founded an independent voluntary association and devised rules and a constitution. The CruisingAssociation of Ireland was formed. CAI operates in Ireland, working withIrish Sailing (I.S.) the equivalent in Ireland of the UK based Royal Yachting Association-RYA. Many members own yachts or motor yachts from 25 ft up to 60 ft+ with the average boat being around 32 ft. We welcome all sailors, particularly those with less experience and who may have family members aboard. Membership is open to all who share our interests, for a nominal subscription of €30 a year. Current membership is around 130 fully paid members. Adding in their crew and families who do not have to pay the annual subscription we estimate that we have around 200 sailors under our flag. A committee of up to ten members manages the organisation. We have no paid staff, but I.S.provides some administrative services. We have no premises either, and consider the website to be our home. We are lucky to be able to enjoy the facilities at every yacht club on the island of Ireland by arrangement and rotate our activities between them.  We have recently updated our constituion.
You can read our constitution here.
The inaugural meeting 2002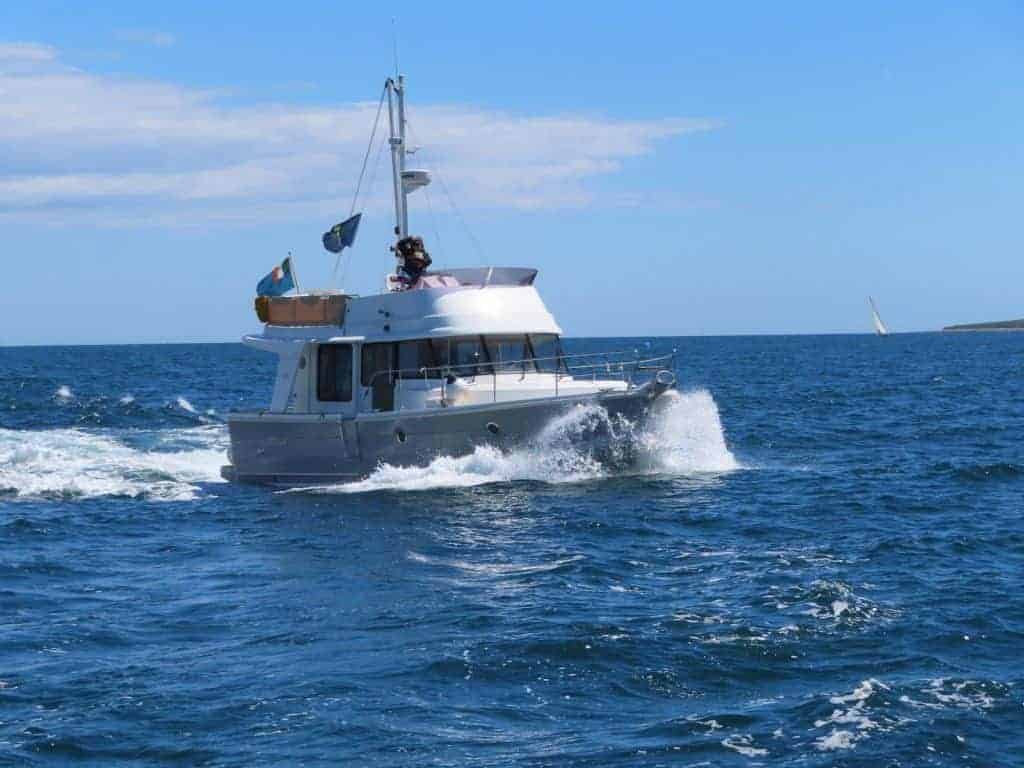 Objectives -Full Steam Ahead
We encourage all our members to go 'cruising-in-company'. We provide briefings and support for our larger rallies–see caveat at the end of this article. We organise overnight trallies and longer cruises with a two/three week cruise mid-summer as far afield as Scotland, France, and our own west coast. Members can choose to do the whole cruise or do part of it if that suits them better. We provide information to help cruising sailors. Our website contains links to reference information, articles, tides, weather sites, event reports, a calendar of events, and news. We organise training events and talks from time to time. We represent the interests of cruising sailors to governmental departments where our interests are under discussion. We also talk to public authorities and private organisations where applicable. Examples are the issue of illegal lobster pots, green (duty free) diesel and the provision of visitor moorings.
Outreach
We work with other like-minded organisations in a co-operative manner. The Irish Cruising Club(ICC) is an older club with similar objectives but a different structure. Its publishing subsidiary is respected for its sailing directions describing the Irish coast in detail. The appropriate  links to their website are in the members area.. Irish Sailing(I.S.) is the sport's national governing body for Ireland. It manages official training, registration and handicap programmes. It co-ordinates events in collaboration with clubs. It has an active cruising section that works closely with us in promoting cruising in Ireland. Sailing clubs organise events and activities for their members, and some larger clubs have formal cruising groups. We encourage members of these groups to join in our activities. Many cruising sailors don't belong to a yacht club, and we offer our organisation as a "club for all". Activities.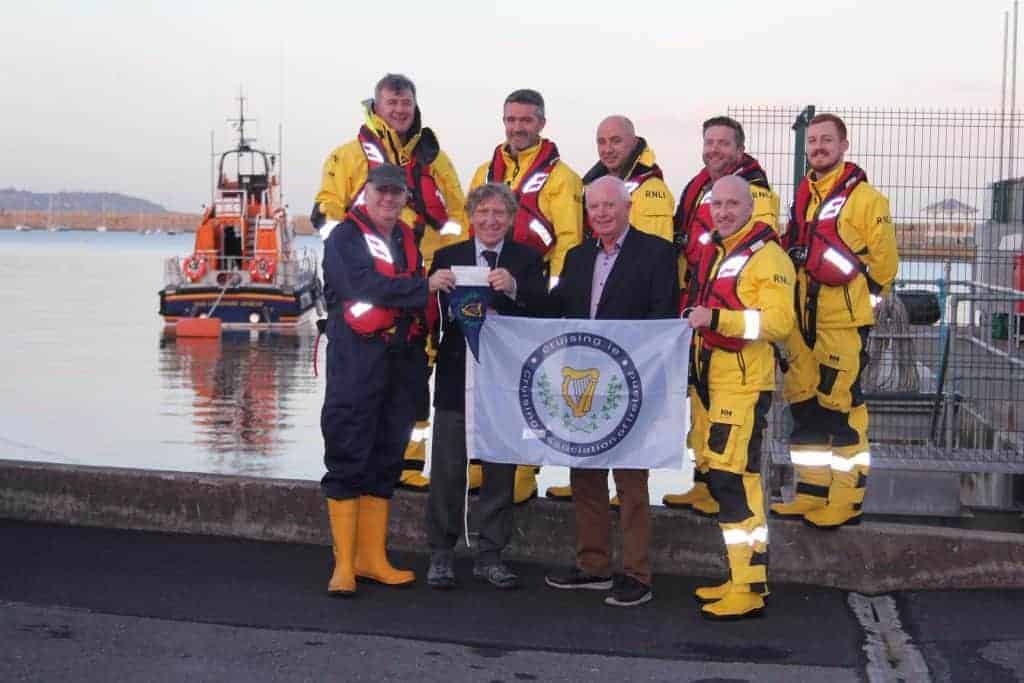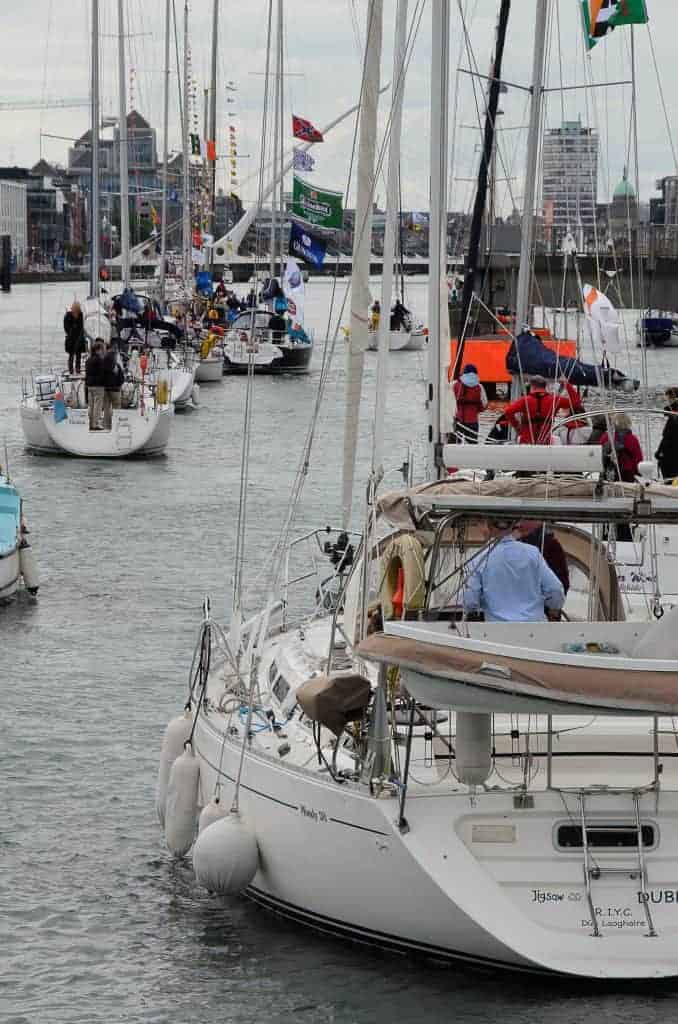 A small subcommittee manages the website and our Facebookpage. We use discussions, event reports and committee updates to keep the site interesting and relevant and publishour annual main events in January in the form of a poster. This years events are listed on a timeOther events may be added during the year dependent on weather and demand from members. A new site has been launched in 2020. Through contacts in sailing clubs, we learn of rallies, cruises, talks, and other activities. With their permission we advertise them and include them on our site
We provide leadership, advice, and support on the water during our cruises, such as the Cruise organised by the I.S. with help from ourselves with 45 yachts entered, called "The Gathering Cruise". Expansion In recent years we have concentrated on the East coast of Ireland including Northern Ireland for pragmatic reasons.
Having found an effective model for organising cruising events we hope to expand into other geographical sailing areas such as the South and West coasts. In Ulster, we have assistance from the Royal Ulster YC with David Meeke being our local representative. David assists with any cruises which pass through his waters. Cruising sailors in Ireland and abroad are always welcome
to join us. To join, visit the link on the home page of our website "Join Us" where you can pay 30 euro by credit or debit card right away. However, we require a standing order for January each year for 30 euro to continue membership into the future. John Leahy Hon Sec CAI +353 87 1360 38
CAVEAT
Every boat taking part in any activity is required to have comprehensive insurance including a third party indemnity of 3 million euros. Every member undertakes cruises under

their own responsibility and the CAI does not provide any form of assurance or cover tomembers while sailing. Each member is essentially sailing using their own judgement and seamanship to ensure they remain within their capabilities at all times.
The joining process is very simple and will afford you as a member access to the private 'members area of our website'