Photography Competition 2023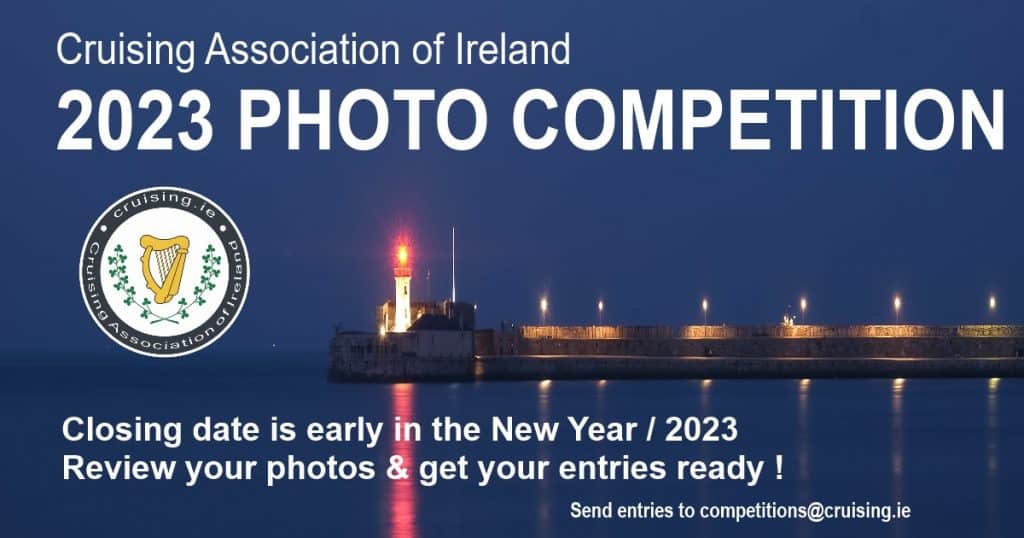 No more entries will be accepted for this year's competition.
The judges are now examining the submissions. They will decide how many prizes to award, and who will receive them.
Results will be announced and prizes will be awarded at the Annual General Meeting in DMYC on Saturday 4 March.
The winning photographs and prize details will appear here soon after the event.
We are delighted to announce that CH Marine have offered to provide vouchers as prizes for the Photography Competition.
Please support them in return by considering this popular and well-known Irish chandler for your next purchase.
Send an email message to competitions@cruising.ie before the end of January
Attach image and/or video files in any format
Include your name, and a title for each item. Use this convention for your filenames if you can:
<forename> – <surname> – <title> . <extension>
For example: john-smith-sunset-party.jpg
Up to three digital photographs and one video will be accepted from each person
Video may be edited, but must be no longer than two minutes
Items should be recent, and related to sailing or cruising
When you enter, you are providing user content to the CAI. That means:
The content must be your own work and copyright will remain with you.
CAI may use your content in the context of the competition, always attributing the source. If you disagree, don't submit an entry.

CAI may use the content in other contexts for the benefit of CAI, in whole or in part, with or without attribution. If you disagree, tell us explicitly when you enter. We'll respect your preference and accept your entry without penalty.
Prizes may be awarded in at least two classes:
The actual number of classes and prizes depends on the number and nature of entries received.
Prizes will be presented to winners at the AGM in March.