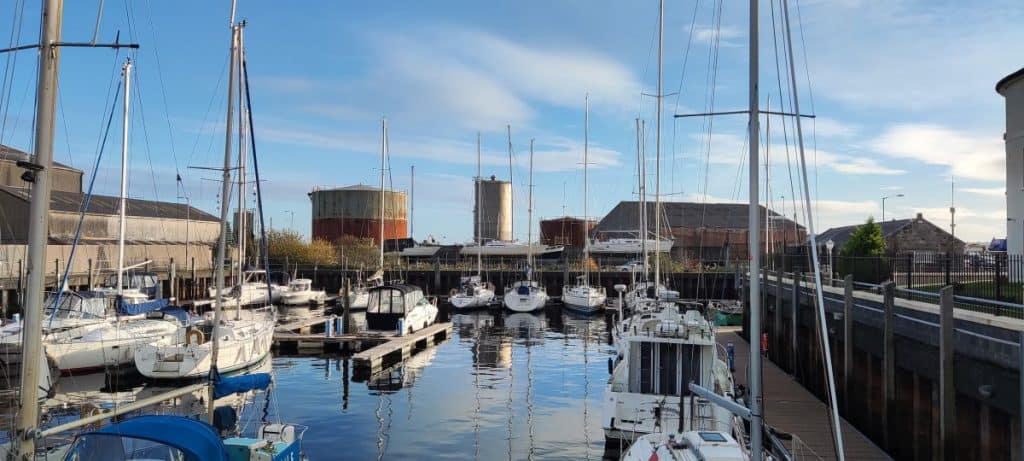 Arklow is a lively town in Wicklow at the mouth of the Avoca River. It has a proud maritime heritage with a reputation for shipbuilding, and is the home of Arklow Shipping, a worldwide operation. There is a snug marina and a river pontoon on the north bank, and a fishing harbour on the south bank with a pontoon operated by the local authority.
Arklow Sailing Club has a clubhouse and yard on the north bank, and runs a full schedule of cruiser races during the season.
The town has many pubs and restaurants, a big shopping centre and a multi-screen cinema. Arklow is much more than just a stepping-stone to the south coast!
We plan to spend two nights in Arklow marina and enjoy the hospitality of the sailing club: Saturday 5 August to Monday 7 August
In the Irish Sea the stream is north with the flood, south with the ebb. Saturday afternoon is good for going south from Dublin to Arklow. Boats from Howth and Malahide might want to leave on Friday evening and spend the night in Dun Laoghaire or Greystones.
On Saturday the fleet is likely to arrive in the evening so no dinner is planned. Instead, we'll have a do-it-yourself barbecue in Arklow Sailing Club on Sunday afternoon/evening. Bring your own food, and cook it on your own portable barbecue or share the club's big gas barbecue.
On Monday the tide is flowing north most of the day, good for the trip back to the Dublin area.
Organisers: Simon Parker 0872497859, Ross Cahill 0868131113, events@cruising.ie
Just after Springs.
Dublin (Source: Mizen Maps)
Fri 4 Aug 14:24 4.0, 19:50 0.6
Sat 5 Aug 08:29 0.3, 15:13 3.9, 20:38 0.7
Mon 7 Aug 10:14 0.7, 16:55 3.7
Arklow (Source: Absolute Tides)
Sat 5 Aug 06:53 0.5, 12:22 1.3, 19:02 0.6
Sun 6 Aug 00:27 1.4, 07:44 0.5, 13:21 1.3, 19:53 0.7
Mon 7 Aug 01:29 1.4, 08:37 0.6, 14:22 1.3, 20:48 0.7
This event is open to all members. For more information and to book, please login.
If you're not a member, consider joining the Association for €30 a year (€45 for families).